One of the biggest challenges for introducing any new alcoholic beverage in the Middle East in general and in Lebanon in specific is positioning this new brand within international brands with big budgets and and having a small piece of the pie market share.
This challenge was taken on by Davai Group's sister company Big Idea Advertising and Branding in Lebanon (www.bigideacc.com) which created a unique slogan that very much represents the brand's core unique selling proposition, and came up with the amazing slogan: "Real Vodka. No Hangover." in the year 2018. This slogan was a hit. It created a major buzz around the brand and initiated trails from consumers who have never tried our vodka before. Upon trial, consumers started confirming that it is true, Svayak Vodka gives you no hangover whatsoever the second day of heavy drinking.
The advertising "Big Idea" is to position Svayak Vodka as the premium quality vodka with a SILKY SMOOTH TEXTURE that gives you NO HANGOVER. Now you can enjoy any activity like sports or an adventure the morning after where you need FOCUS, BALANCE, and a CLEAR MIND to perform your best as well as enjoy it. With Svayak Vodka your next day experience is enjoyable even after a night of heavy drinking.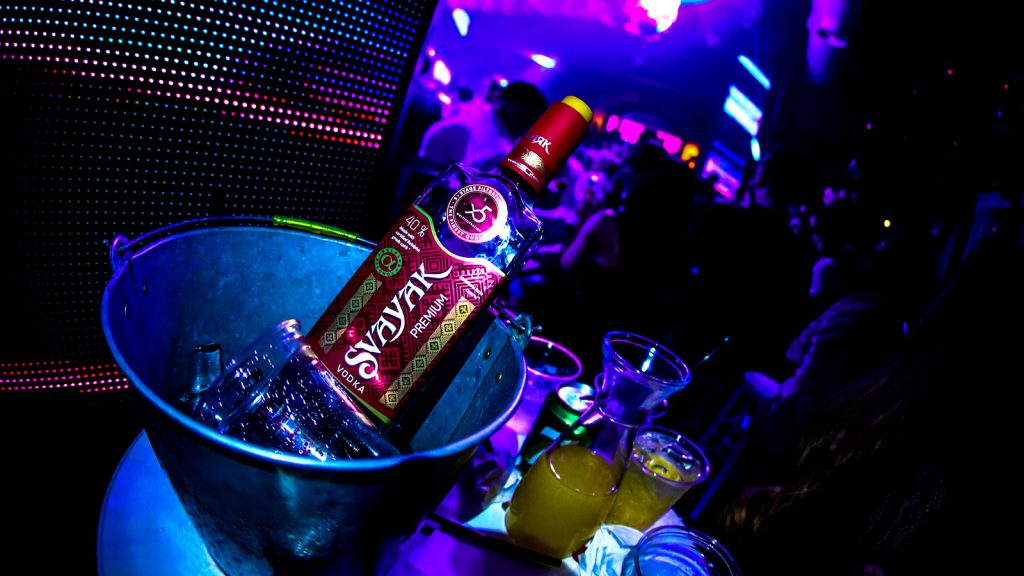 "Svayak" – created for confident people who lead an active life, seek new experiences are capable of adventure and at the same time appreciate the comfort of their homes. Special vodka containing wheat flake infusion which attributes mild balanced flavor and pleasant after taste.
Svayak Vodka was officially introduced in the Lebanese market in 2019 by Davai Group Sarl, the exclusive agents/distributors os Svayak in Lebanon.
A successful introduction:
Launching: Caprice Nightclub Event – On February 08, 2019 Svayak Vodka launched Svayak Vodka at Caprice Nightclub in Beirut where 1200 persons had the chance to taste our award-winning vodka for the first time. The feedback, specially the second day, was rewarding. People reported no hangover whatsoever and this is when the buzz around Svayak started.
Festivals Participation: "Bnos Jounieh Festival" was one of the most amazing events that gave Svayak Vodka a lot of recognition and awareness in Kerserwane and Jounieh in specific. We were present for one whole month on a 35 meters long bar in front of the main stage where all shows were taking place.
Sponsorships: ESMOD Beirut and many similar events were sponsored by Svayak Vodka where we had the chance for effective branding and tasting..
Tasting sessions: we are carrying out continuous tasting events throughout the year
Quam non dapibus tempor.
On-trade activities: We are now available in many supermarkets and specialty grocery stores where we continuously hold tasting sessions and carry on a lot of promotions and branding activities.
See also: